Welcome to the official website for the United States District Court for the Northern District of Alabama
Warning: Fraudulent E-Mail
The Office of the United States Attorney advised the Court that a fraudulent e-mail about an unpaid debt has been sent to some citizens in the Northern District of Alabama. The fraudulent e-mail PURPORTS TO BE sent by ["] Frank Harris["] FROM THE U.S.ATTORNEY'S OFFICE. The e-mail is entitled United States District Court Warning[,], and contains threats about the initiation of "legal proceedings" to collect a debt. IT IS A SHAM. Do not respond to the e-mail. Federal law enforcement officials have been made aware of this issue.
There are also reports of additional scams involving Magistrate's Court Summons. If you have any questions please contact the clerks office.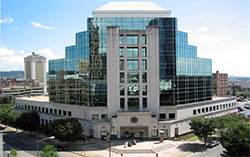 Court Locations
Hugo L. Black United States Courthouse
1729 5th Avenue North
Birmingham, AL 35203
Main: (205) 278-1700
United States District Court
101 Holmes Avenue
Huntsville, AL 35801
Main: (256) 534-6495
There is no Clerk's Office at this location to accept filings.
Tuscaloosa Federal Building and Courthouse
2005 University Boulevard
Tuscaloosa, AL 35401
Main: (205) 561-1670